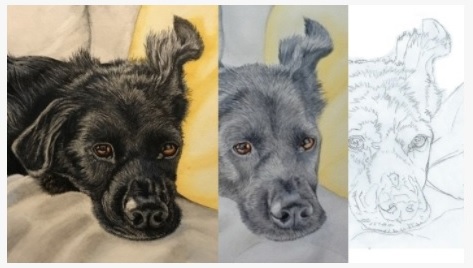 Rebecca Rhodes will work with you to create your own pet portrait!
For more information, contact Rebecca at admin@rebeccarhodesart.com.
Inluded in the Process:
The drawing
Step by step videos sent to you in real time of the entire process, from start o finish, including mixing colors
Real time narration by Rebecca Rhodes
Personal feedback, critiques, assistance throughout the entire painting
How it Works:
1. Contact me at rebrho@gmail.com. I will accept 1 to 2 students per month.
We will discuss your ideas, size of the painting, materials needed, your timeline, and the fee.
Rebecca will send an invoice - payment made through Paypal.
2. I will create the drawing and email to you.
3. I will create and send to you step by step videos in real time, talking through the process.
Each video will be 10 to 25 minutes in length to allow for easy transfer over the internet.
I will send the video to you via WeTransfer or Google Docs - whichever you prefer. Videos are downloadable, so they will be yours forever!
Throughout the painting, we will correspond via email - I'll answer all of your questions and provide critiques throughout the process.
Options and Pricing: Pricing is for a white background.

Contact Rebecca Rhodes
to create that special gift for a loved one, client, or yourself!

Testimonial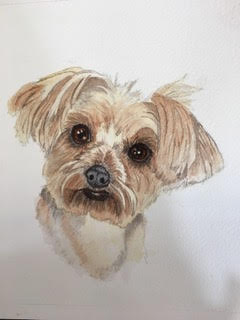 My online one-on-one class with Rebecca Rhodes was the most worthwhile and inspirational watercolor experience I've ever had. I discovered Rebecca online after I had already taken several in-person classes at my local art league.While I learned basics in those large classes, I was never quite able to put everything together to produce a quality painting. I became frustrated and was on the brink of giving up watercolor altogether.
Through this process, I was able to better understand what techniques work and the "whys" behind them. I made a real connection between my general skills and the challenges of the painting.Most of all, I gained confidence and found a renewed enthusiasm for watercolor! Rebecca's warm and easy manner made the experience all the more enjoyable.
I'll admit that I was utterly shocked and extremely pleased at what I was able to produce with Rebecca's tutorial.
- Jane Donaldson